When Doc Emmett Brown (Christopher Lloyd) and Marty McFly (Michael J. Fox) went on their second adventure, traveling 30 years back in time to October 21, 2015, they most likely didn't anticipate the excitement that would accompany the movie more than a quarter of a century later.
While everybody is talking about "Back to the Future II" and which predictions came true (video conferencing, big screen tv's, virtual-reality goggles, the cubs (having a chance at) winning the world series) and which didn't (flying cars, hover boards, "Jaws 19") – two brands are emerging as true winners of product placement years after the fact.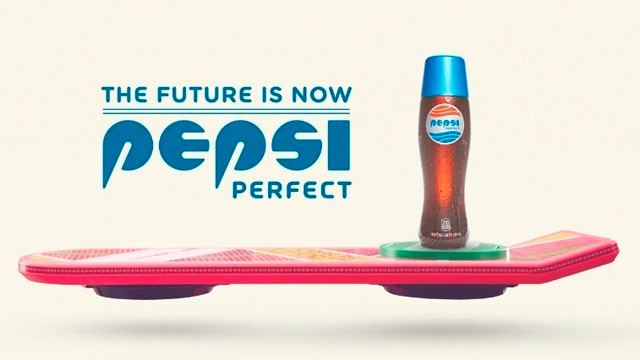 PepsiCo released a limited edition Pepsi bottle today to pay tribute to Marty McFly's arrival in the future and to celebrate one of the biggest movie franchises of all time.
"Pepsi fans asked and we heard them loud and clear," said Lou Arbetter, PepsiCo's senior director of marketing, in a statement. "The 'Back to the Future' trilogy was as big a moment in pop culture history then as it is now, 30 years later. We are excited to be part of this moment and to bring fans something only Pepsi could deliver – and there's no need to wait – the future is now!"
PepsiCo even released a commercial for the product launch. Not that it was necessary to sell the product. Retailing at $20.15 – to commemorate the year – the bottle had a limited run of 6,500 and appeared to have sold out immediately.
Nike, whose shoes had also been featured in the 1989 film, released 1500 replica pairs in 2011, and although they were not of the self-lacing type as in the movie, the company raised $4.7 million dollars for the Michael J. Fox Foundation for Parkinson's Research.
Having filed a patent back in 2009, Nike did confirm that an actual self-lacing shoe was in development, teasing fans yesterday with a tweet to Michael J. Fox stating "see you tomorrow."
.@realmikefox see you tomorrow.

— Nike (@Nike) October 21, 2015
Maybe today is the future?
Update: Self-lacing are indeed here. Nike send a pair to Michael J. Fox along with a hand written letter from Tinker Hatfield, the shoe's inventor. The self-lacing shoes will be produced in 2016 and once again auctioned off to benefit the Michael J. Fox Foundation for Parkinson's Research. The actor showed them off, appearing on Jimmy Kimmel Live.