Nest, the company founded by former Apple engineers Tony Fadell and Matt Rogers, made some big waves last week when news surfaced that the Palo Alto, California based manufacturer of new smart technology was bought by search giant Google for 3.2 billion dollars.
Then again it should not have been surprising at all. Since its launch in 2010 Nest has reinvented the thermostat and just recently debuted an ultra smart smoke & carbon-monoxite detector. Those are fairly boring pieces of technology, but Nest took them, made them smarter and had some fun along the way.
Back in November when the company launched the new smoke & carbon-monoxide detector they purchased an old fire engine from Craig's list, pimped it all out and went around California promoting their latest product – pretty genius marketing on top of great product innovation.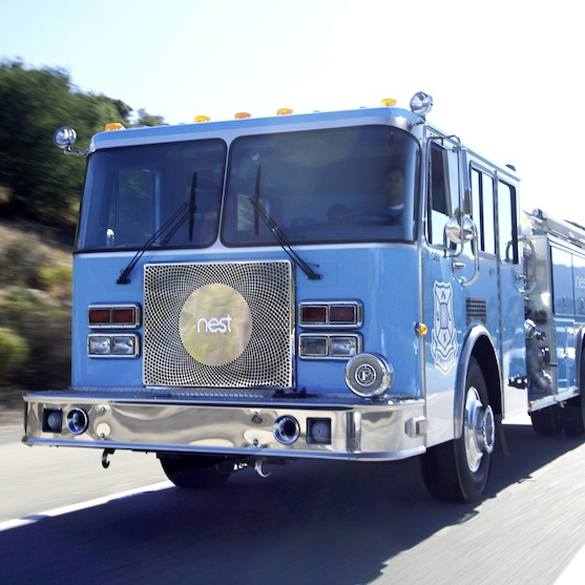 In a blog entry from January 13, 2014 Tony Fadell, Nest's founder and CEO states: "Nest will continue to be Nest, with its own distinct brand identity. We will continue to reimagine and reinvent the unloved products that proliferate in our homes, just as we have since we started. We are simply going to get our products into the hands of people around the world – faster."
We have both products in our house and my technology-loving husband couldn't wait to get his hands on them. The Thermostat has been saving us a bunch of "leaves" since we got it almost two years ago, but our smoke-/carbon-monoxide detector went off a few days ago for the first time, while I was making some toast, which got just a bit too crispy – aka burnt. I had left the room for a minute and not only did I get alerted by the other devices talking to each other across the house, that there was smoke in the kitchen, my husband got an in-app alert on his smart phone, complete with suggestions what to do in case of a fire.
After waving at the smoke alarm, like it instructed us to do in case of a false alarm, the device went off. Once the smoke settled we were informed once again via an in-app message, that the smoke was clearing. Pretty cool stuff.