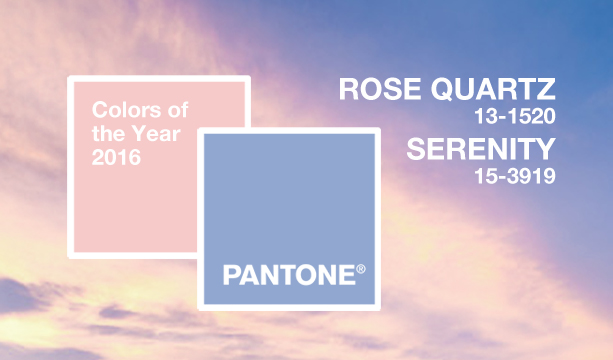 The Pantone Color Institute® – always up for a surprise this year – for the first time announced two colors of the year for 2016. While they are called "Rose Quartz" and "Serenity" they might have come straight from a baby announcement, as they are essentially shades of light pink and baby blue.
While Christina Binkley from the Wall Street Journal joked "It's twins!" Pantone insists that is not the case.
"Rose Quartz is a persuasive yet gentle tone that conveys compassion and a sense of composure. Serenity is weightless and airy, like the expanse of the blue sky above us, bringing feelings of respite and relaxation even in turbulent times. … Joined together, Rose Quartz and Serenity demonstrate an inherent balance between a warmer embracing rose tone and the cooler tranquil blue, reflecting connection and wellness as well as a soothing sense of order and peace." Leatrice Eiseman, Executive Director of the Pantone Color Institute was quoted on the company's website.
Quite different than Benjamin Moore's choice for the Color of the Year – Simply White – or Sherwin-Williams 2016 pick of Alabaster.